Paint and take ceramics
Canvas painting and classes
Beading
Walk-ins welcome
Parties and Events
Complete Projects begin at $6.95
A dream world of penguins, paints, ceramics and plaster could also be your dream career.
No one says that what you do for a living has to be dull and drab and repetitious, that you have to spend the rest of your life working for someone else, according to their schedule, with limited possibilities for financial security.
Family fun franchise!
The Painted Penguin experience is all about having fun.
The Painted Penguin locations are "paint-it-yourself" crafts stores. The decor is neat and clean, with shelves displaying hundreds of decorative ceramic and plaster choices, from teddy bears and dogs, to dragons and fairies. The pieces appeal to painters of all ages.
The prices of the items range from less than $10 up to $175. The cost conveniently includes all of the supplies needed to complete the piece, including paint, glitter, gloss, brushes, and disposable smocks. Customers can take their artwork home the same day!
The Painted Penguin stores are located inside high-traffic, middle-to-upscale shopping centers. The bright and colorful storefronts regularly attract walk-ins, but locations are also absolutely ideal for children's birthday parties,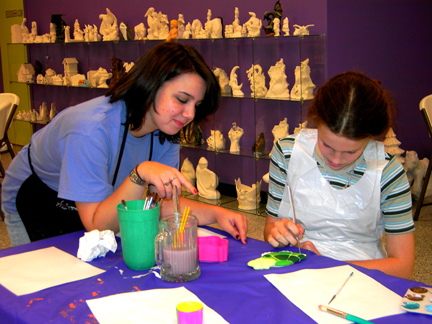 Girl and Boy Scout events, school fieldtrips, family time, corporate events and even adult gatherings. (The Painted Penguin can also host events at outside facilities.)
A variety of group packages are available. The Painted Penguin can provide pizza, cake, balloons, party invitations, and more. Busy parents can even choose to hand over the responsibility of compiling the "goody bags" for parties!
An opportune time to join the Painted Penguin team
It is no wonder The Painted Penguin has become a hit. Purchasing and designing craft items have never been so popular. And, the craft business has never been so lucrative: It currently represents a $26 billion industry.
Mark Mandel, a retail analyst with Robinson-Humphrey, explains it simply, "People like to create, and they like to work with their hands."
Statistics show that more and more Americans are engaging in crafts & hobbies. The Association of Crafts & Creative Industries explains, in a little more detail, the variety of reasons that consumers craft:
– Satisfaction-The pleasure of being able to say, "I made it my myself."
– Save Money-Often, the cost of making a craft project is substantially cheaper than buying a readymade item. – Creativity-Make unique, personalized items for home or work.
– Gift-giving-There's nothing quite like a handmade gift from a friend or loved one.
– Health-There is a wealth of anecdotal-and some scientific-evidence that crafting can calm nerves, lower blood pressure, and improve the crafter's state of mind.
– Make money-Create projects for sale.
Specifically, the paint-your-own craft business is a growing industry that started on the West Coast and has become popular all around the country.
According to Helene Safford, Vice President of Convention and Market Research for the Contemporary Ceramics Studio Association (CCSA), the paint-your-own-studios industry has shown sustained growth for the last six years, and the CCSA itself has doubled in size in the past three years.
Christine Lawrence, Marketing Director for the Contemporary Ceramic Studio Association (CCSA), says painting ceramics is popular for people of all ages. "It's a wonderful form of self-expression and pure entertainment."
Low investment, plus high satisfaction
Compared to many other franchise opportunities you may be considering, The Painted Penguin requires a moderate initial investment. (We can provide you with full details regarding investment requirements at our initial information meeting.)
Do-it-yourself ownership with expert assistance
The Painted Penguin is a franchise business. That means that as a Painted Penguin franchisee, you get to experience the best of both worlds-business ownership, with leadership from an experienced, successful franchisor.
It is no wonder a growing number of Americans are turning to franchising to realize their dreams and goals.
Today, there are more than 320,000 franchises in the U.S., generating a tremendous $1 trillion in sales each year. That figure accounts for a phenomenal 40% of all retail sales.
Franchising is effective. The U.S. Department of Commerce has called buying a franchise "an individual's most viable avenue to owning a business." Many small business owners don't have the business knowledge or experience offered by a franchise company. As a franchise operator, you may be able to reduce your risk by following a proven system of operation.
Unwavering support from The Painted Penguin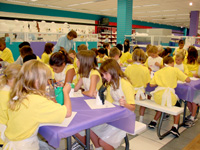 Our customers paint their own ceramics and plaster, with the help of accomplished artists on the premises, at The Painted Penguin locations. You can think of franchise ownership with us in the same way. You own your own Painted Penguin business, but receive expert guidance. Our talented support team is there to assist you in a variety of ways:
Comprehensive Training.
Training will take place in two phases. Several weeks of off-site training will cover administrative, operational, sales and marketing, and more. The second phase of training will take place on-site at your Painted Penguin store. Rest assured, you will be fully prepared when you begin your exciting Painted Penguin ownership journey.
Marketing Guidance.
You'll be supported with marketing material guidelines, as well as guidance on strategies and marketing plans.
Purchasing Clout.
You'll be supported with guidelines for obtaining quantity discounts on materials you purchase, due to your affiliation with our system.
Operational Support.
You will receive visits by a member of The Painted Penguin field staff, according to a set schedule. He or she will be able to assist you in many areas critical to the success of your business, including unit operations and maintenance, customer-service techniques, product ordering, and pricing.
Ongoing Research.
We are continuously looking for ways to improve on our system,- and on our results and yours. All new methods and techniques for enhancing unit-level profitability are passed down to our franchisees.
Site selection and development.
The location and appearance of your store is key to your success as a Painted Penguin franchisee. (You will be granted the right to exclusively operate in the mall in which you locate.)
There are many benefits for mall executives to secure you as a tenant. The Painted Penguin stores attract individuals to malls at no cost to mall operators. Our birthday parties and other group events bring literally thousands of extra people to our malls each year.
We provide you with clear guidelines for choosing a suitable location. In addition, you receive detailed assistance in store design. You'll know how to display your penguin "trivia" (did you know that there are 17 kinds of penguins?), neatly fill your shelves with ceramic and plaster choices and samples to look like the friendly, upbeat, clean art studio people have come to expect at a Painted Penguin.
You don't have to be an artist, but you may well become one!
The Painted Penguin is a fun and growth-oriented opportunity in the booming craft industry. We are looking for customer service-oriented individuals, with an interest in crafts and who enjoy working with children, to join our team. No painting experience is required, but former retail or craft store experience is beneficial. We do look forward to hearing from you.
The Painted Penguin, LLC
6115 Monroe Court Morton Grove, IL 60053
Email: franchise@thepaintedpenguin.com
Phone: (847) 764-0891